Grief & Loss
Accepting the pain of loss when someone dies is hard and it takes time for life to grow around grief.
Language is important for children - follow the child's lead, use simple, age-appropriate words. It is very Important to model use of concrete language and avoidance of euphemisms: replace 'passing away' with 'dying' – generally use 'dead' or 'died' rather than 'gone' or loss'.
Find ways of remembering the good things.
We have to find a place in mind for the person who has died; that's part of the bereavement process:
We may have grown in some way as a result
If the relationship had positive elements that can be the best memorial
In some relationships there has been a lot of unhappiness, e.g. in abusive relationships, here bereavement is more complex. Finding a place for understanding oneself in relation to the other person's behaviours, is not simple. It requires further support/counselling to work through.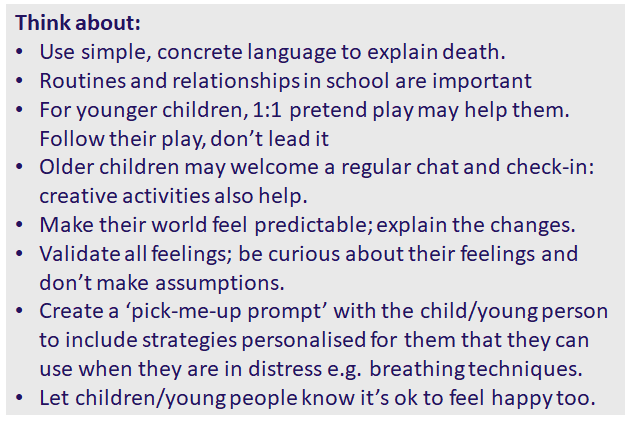 Helpful websites -
https://www.childbereavementuk.org/ - has information on how to tell children when someone is not expected to live and when someone has died suddenly. Helpline, online chat, email and information around loss.
www.hopeagain.org.uk - The support service for young people offered by Cruse.
www.winstonswish.org - Support for bereaved children, young people, their families, and the professionals who support them.
www.themix.org.uk - Support for under 25s with a range of challenging issues.
www.lcgl.org.uk Lincolnshire Centre for Grief and Loss. Website with further support guides and advice.